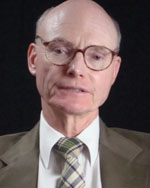 Walter E. Hussman, Jr.
Owner & Publisher
Walter E. Hussman Jr., owner and publisher of the Arkansas Democrat-Gazette and president and CEO of WEHCO Media, Inc. was named Editor & Publisher's 2008 Publisher of the Year. According to E&P, Hussman, a third-generation newspaper man, has become a contrarian in an age of new industry conventional wisdom. Rather than shrink circulation, the Democrat-Gazette maintains its ambition to be a state-wide newspaper.
Hussman, 63, is a member of Board of Directors of The Associated Press and is chairman of the P.A.R.K. Foundation. Included in his civic activities are his continuing efforts to improve public education and after-school programs in Little Rock and the state of Arkansas. Hussman received University of North Carolina at Chapel Hill's Distinguished Alumnus Award in October 2009. Hussman has been publisher of the Democrat-Gazette since 1974.
[AR 0401] - The Story of the Arkansas Democrat-Gazette (6:08)
Walter E. Hussman Jr., tells the story of the growth of the Arkansas Democrat-Gazette from his perspective as publisher of the newspaper since 1974.