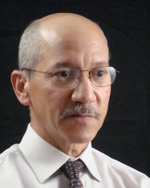 Pedro Rojas
Executive Editor
Pedro Rojas is executive editor of La Opinión and a member of the company's executive committee. Rojas also oversees the daily's Web page, which is one of the main content generators for the holding company ImpreMedia's portal site. He's a seasoned journalist with more than 30 years experience in the newspaper business, the last 12 in upper management. From 2004 to 2005, Rojas served as executive editor at El Diario/La Prensa. In the last three years, La Opinión's journalists have received numerous awards from NAHP, NAHJ, NAM and others, including the @ Award for the best Spanish Web page in 2007.
Before joining La Opinión in 2003, Rojas worked at El Nuevo Dia for 27 years, in San Juan, Puerto Rico, the last six as managing editor.
[CA 0401] - The Story of La Opinión (2:04)
Pedro Rojas, executive editor, La Opinión, says La Opinión was launched on September 16, 1926 – Mexican Independence Day – by Ignacio Lozano, Sr. Leadership has been handed down through the family to Ignacio Lozano, Jr., and now his daughter, Monica Lozano. La Opinión is currently part of a holding company, impreMedia, along with El Diario, a New York City Spanish-language daily, and five Spanish-language weekly newspapers.