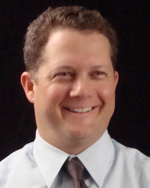 Jay Seaton
Publisher
Prior to Publisher Jay Seaton's arrival at the Daily Sentinel in August 2009, he was a corporate and commercial litigation partner at the law firm of Lewis Rice & Fingersh in Kansas City, Missouri. He also worked in toxic tort litigation at the law firm of Shook Hardy & Bacon.
Since arriving in Grand Junction, Seaton has become involved in the Colorado Forum, the Grand Junction Economic Partnership, the Grand Junction Forum, the Saccomanno Higher Education Foundation and the St. Mary's Hospital Foundation. Seaton holds a bachelor's degree from the University of Wisconsin at Madison and received his juris doctorate from Kansas University in 1996.
[CO 0101] - Part 1: Intro and Contribution (7:39)
Jay Seaton became publisher of The Daily Sentinel in August 2009. Seaton comes from a newspaper family; his father, Edward Seaton, is editor-in-chief and publisher of The Manhattan (Kan.) Mercury. "I was a newspaper carrier and I entered sports agate in high school," says Jay Seaton. About the Sentinel, Seaton says, "We consider ourselves a community newspaper." The Sentinel is committed to a watchdog function. "I hope … that every public official, before they hit the send button on their e-mail, thinks about what that e-mail is going to look like stripped across the top of The Daily Sentinel." "There's no such thing as sleepy towns," says Seaton, "there's sleepy newspapers."
[CO 0102] - Part 2: Strategic Changes (6:12)
Jay Seaton, publisher, The Daily Sentinel, says a key strategic change occurred Oct. 6, 2010, when The Sentinel instituted a subscription charge for access to its full website. "We're in the business of providing news content," says Seaton. "You can get any or all of it at the same price. If you are giving the Internet product away [with the same content as the newspaper] – you are driving consumers to the Internet. That's just simple economics," says Seaton, "and that's an unsustainable business model." Seaton says since instituting the web subscription fee there has been a slight "bump" in circulation. Overall web traffic has fallen off 16 percent, according to Seaton, "but we know more about those folks." He calls them "invested eyeballs" because they are engaged with the community and are a valuable asset for targeted web advertising. The newspaper also made a key decision a few years ago when it decided to focus on local news in its front section.
[CO 0103] - Part 3: Adaptation & the Future (7:23)
Jay Seaton, publisher, The Daily Sentinel, says his newspaper is wary about making quick technology changes. "You can't get caught up in technological change for the sake of change," says Seaton. He says he wants The Sentinel to focus on "providing more reliable information – information that has been vetted. Information that has that has gone through the [editing] process. Bloggers don't do that," he says. Seaton thinks vetted content is the key to current and future success. "As the new technology revels itself -- and there's a paradigm shift," says Seaton, "we're in the best position – newspapers – to provide reliable content to folks."
[CO 0104] - Part 4: Prospects & Preparation (1:21)
Jay Seaton, publisher, The Daily Sentinel, says he hopes candidates for jobs at The Sentinel will have demonstrated that they "take an interest in the world." We want someone "that asks questions – that thinks – that cares. These are the people who makes the best journalists," says Seaton.