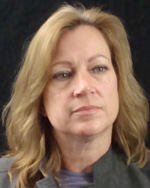 Laurena Mayne Davis
Managing Editor
Managing Editor Laurena Mayne Davis started at the Sentinel in 1992 as a college intern, and was a copy editor, reporter and features editor before becoming managing editor in 2008. Previously she taught journalism at Northern Arizona University and Mesa State College.
Davis has been a fellow at American Press Institute and Poynter Institute and has written two books and edited two others, including the 2011 "Monumental Majesty: 100 Years of Colorado National Monument."
[CO 0201] - Part 1: Intro and Contribution (3:21)
Laurena Mayne Davis, managing editor, The Daily Sentinel, started at the newspaper in 1992 and has served as managing editor since 2008. Davis decided to become a reporter when a professor told her: "You know, you could make a living doing this." About her newspaper, Davis says, "We are the center of [community] discussion. When people talk about issues that have been covered in a newspaper, it gives you that commonality – a sense of place, a sense of this is what we are about -- what people here care about."
[CO 0202] - Part 2: Ethics & Digital Content (7:39)
Laurena Mayne Davis, managing editor, The Daily Sentinel, says, "Seek truth and report it," from the Society of Professional Journalists Code of Ethics, "covers 90 percent of our daily decisions. We live out our code of ethics on a day by day basis." As delivery systems change, Davis says The Sentinel is using a refined frame of reference to define itself. "Newspaper is how we deliver some of our news, but we are first and foremost a news organization. And if we deliver our news in print or if we deliver that news on our website … we will continue to find those distribution channels that our readers want. And going back to the core – 'we deliver news to our community' – makes other decisions easier."
[CO 0203] - Part 3: Strategic Changes (5:43)
Laurena Mayne Davis, managing editor, The Daily Sentinel, says her newspaper made a "profound change" a few years ago. "We moved up our local coverage as high in the newspaper as we could -- except for profound events." As a result, "our newspaper has remained strong in the marketplace," says Davis. Davis says today's newspaper reporters are called on to perform many new tasks, but she says not everyone can do everything. "You are not utilizing their time well if you are forcing them to do something they're not good at. It's a blend," she says, "and we figure it out as we go."
[CO 0204] - Part 4: Adaptation & the Future (4:08)
Laurena Mayne Davis, managing editor, The Daily Sentinel, says looking forward "we'll continue to get better at delivering news across multiple platforms. I hope we'll also continue to listen to our readers about what they want and realize that what they want may be different than what we do and that we better change," says Davis. We also believe that covering the news is "a labor-intensive business" and "we have kept our labor," says Davis.
[CO 0205] - Part 5: Preparation (1:51)
Laurena Mayne Davis, managing editor, The Daily Sentinel, says reporting is a show-me job. "Journalism is not something you say you do," says Davis. " It's something you do." In preparation, Davis advises students to "develop your critical thinking skills. Continue to educate yourself as best you can. I would like to know you worked hard – before you got that job – to prove you could learn and grow, and then that gives me some confidence that you'll do the same thing after you're hired."