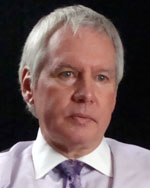 Gary Farrugia
Publisher
Gary Farrugia became Publisher of The Day Publishing Co. in January 2002. Before arriving in New London, Farrugia worked 18 years at The Philadelphia Inquirer. In 1991, he led a reporting team that was a Pulitzer Prize finalist for coverage of the death of US Sen. John Heinz and seven others in a mid-air collision above a crowded Philadelphia schoolyard.
In 1994, Farrugia became News Director of Inquirer News Tonight, a nightly newscast that aired on a local Philadelphia broadcast television station. In 1996, Farrugia returned to the newspaper to head KR Video, a television documentary production company. KR Video produced documentaries for CNN and PBS including Black Hawk Down, which later became a best-selling book and major motion picture.
In 2000, Farrugia was named Vice President for New Business Development at The Inquirer. There, he managed five subsidiary companies including KR Video, Database Marketing, Broad Street Custom Publishing, News Research, and PhillyTech Magazine.
[CT 0101] - Part 1: Intro and Contribution (5:15)
Gary Farrugia, publisher, The Day, joined the newspaper in October 2001 from the Philadelphia Inquirer. According to Farrugia it is The Day's goal to serve as a "trusted source of information and advertising content" for its community. The Day is a "cohesive force," says Farrugia. "It connects citizens to the environment, to their government and to the merchants … so that citizens can make better choices in their lives."
[CT 0102] - Part 2: Strategic Changes (7:33)
Gary Farrugia, publisher, The Day, says, "Technical changes and the recession have prodded The Day to rethink its business plan." "It has caused us to rethink how we take the respected and valued traditions of a newspaper and transfer that into an emerging digital business," says Farrugia.
[CT 0103] - Part 3: Adaptation & the Future (9:00)
Gary Farrugia, publisher, The Day, says the effects of the cutbacks of the 2009 recession have "leached out all but the most dedicated [newspaper] readers" and now he expects any circulation declines to drop to single digits, annually. To move forward, The Day "has cross-trained its sales staff to sell all digital products" as well as its print products, says Farrugia.
[CT 0104] - Part 4: Digital Products & Revenues (3:48)
Gary Farrugia, publisher, The Day, says, "digital revenues could match print revenues in 3-5 years." "Whether we sustain ourselves as a business is wholly dependent on how well we move our legacy business to be 50 percent or more underwritten by online revenues," says Farrugia.