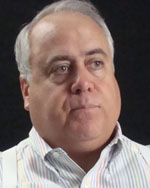 David Raese
Publisher
David Raese has been publisher of The Dominion Post since 1987. He is a lifetime resident of Morgantown, WV. Raese is part owner and president of the board of directors of the West Virginia Newspaper Publishing Co. and part owner of Greer Industries. He was the 2002 Campaign Chair of the United Way of Monongalia and Preston Counties and is an active member of the Rotary Club of Morgantown. Raese is married to Kathleen Raese and has four children: Rebecca, Ethan, Adam, and Isabel.
[WV-E 0101] - Epiphany III: David Raese, publisher, The Dominion Post, Morgantown, W.V. (1:55)
David Raese was a sports columnist at The Dominion Post when he learned how one newspaper column could touch people's lives.