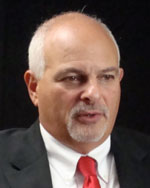 Scott Wasser
Executive Editor
Scott Wasser is Vice President and Executive Editor of MaineToday Media's The Portland Press Herald and Maine Sunday Telegram. Previously, Wasser was managing editor and vice president for news at the Times Leader in Wilkes-Barre, Pa.. In addition to his managerial duties, Wasser periodically writes a car column and has contributed articles to Road &Track and Open Road magazines and USA Today.
[ME-E 0201] - Epiphany XIV: Scott Wasser, V.P. & executive editor, Portland Press Herald; Portland, Me. (5:19)
Scott Wasser was a young reporter at the Stuttgart Daily Leader in Stuttgart, Ark., when he found himself up to his ankles in alligators (or at least feared that could be the case), and the power of the press became clear to him.