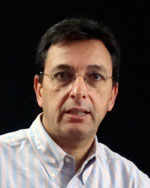 Bennie DiNardo
Deputy Managing Editor, Multimedia
Bennie DiNardo became the Globe's deputy managing editor for multimedia in June 2008. In that position, he oversees the editorial operations of the Boston.com website and helps shape the newsroom's digital strategy, including the introduction of the new, paid bostonglobe.com website, scheduled for 2011, and the Globe's video content.
A Leominster native, DiNardo has worked at the Globe 16 years. From 1999 to 2008 he served as the Globe's deputy business editor, responsible for day-to-day management of the Business section. Previously, he was an assistant editor at the Globe Magazine and a copy editor. Before the Globe, DiNardo had been editor of the Boston Business Journal.
A 1979 graduate of Cornell University, DiNardo received a master's degree from Yale Law School in 1986.
[MA-E 0301] - Epiphany XVIII: Bennie DiNardo, deputy managing editor, multimedia The Boston Globe; Boston, Mass. (2:13)
Bennie DiNardo was a young reporter, still learning his craft, when all the elements of a story came together for him for the first time and he discovered "how journalism works."