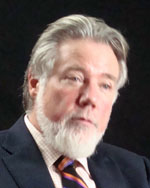 Tom Heslin
Sr. VP & Executive Editor
Thomas E. Heslin became executive editor of the Providence Journal in November 2008. Prior to that, he was the managing editor for new media with responsibility for projo.com's online news initiatives. During that time, The Journal's Web site, projo.com, was acknowledged for excellence and innovation by the Associated Press Managing Editors, the Newspaper Association of America, the New England Associated Press News Executives and Editor & Publisher magazine.
Heslin helped to found the New England First Amendment Coalition and ACCESS/RI, regional and state non-profit organizations dedicated to improving public awareness and access to the records and processes of government. He has served on the board of the national Freedom of Information Coalition, the Freedom of Information Committee of the American Society of Newspaper Editors, and as a New England coordinator for the American Society of Newspaper Editors' Sunshine Week project on open government and freedom of information issues.
[RI-E 0201] - Epiphany XXII: Tom Heslin, Sr. V.P. & Executive Editor, The Providence Journal; Providence, R.I. (5:53)
Tom Heslin was working for a Maine weekly in his first newspaper job when he learned to look at the people behind the news in order to tell the most compelling story.