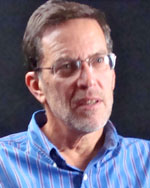 Peter Phipps
Managing Editor for New Media
Peter Phipps has been with the Providence Journal since 1985, serving in a variety of writing and editing roles. The New England AP named him best local columnist in 2001. From 2001 to 2006, he served as Sunday editor, and since 2006, he has held key leadership roles in new media. He has been leader of a newsroom effort to create a paid-content model for projo.com.
Phipps is a long distance runner, with 11 marathons and 100s of other road races to his credit.
[RI-E 0301] - Epiphany XXIII: Peter Phipps, managing editor, new media, The Providence Journal; Providence, R.I. (2:06)
Peter Phipps was a young journalist at an Ohio newspaper when he thought he had a great story, but he forgot to ask the one question he needed to nail it.