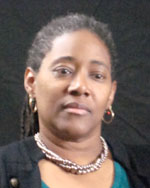 Talibah Chikwendu
Executive Editor
Talibah Chikwendu is the executive editor of the AFRO American Newspapers. She oversees the content production for the newspaper's three editions – Washington, Prince George's and Baltimore – special publications and the website, AFRO.com.
Chikwendu has worked with the AFRO for 13 years, in a variety of positions including Baltimore editor, Washington editor, special publications editor, web editor, director of operations integration, radio show host and consultant. She is an award-winning columnist and photographer, with credits including the Baltimore Sun and Urban Influence, a publication of the National Urban League. She is serving her third non-consecutive term on the Maryland-Delaware-District of Columbia Press Association's board of directors. Chikwendu holds a bachelor's of fine arts in digital design and a master's of business administration with a concentration in project management.
[MD-E 0201] - Epiphany XXXVI: Talibah Chikwendu, executive editor, The Afro-American Newspapers, Baltimore, Md. (1:52)
As a young reporter, Talibah Chikwendu wrote a story about an elderly woman having difficulty getting her medical insurance. Afterward, when the woman's daughter thanked Chikwendu for her report, she understood how journalism could affect people's lives.