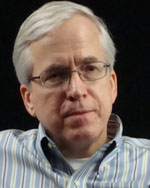 Lloyd Gray
Executive Editor
Lloyd Gray has worked for Mississippi newspapers since he was 16 years old, when he was hired as a part-time sportswriter at The Meridian Star. He has been executive editor of the Northeast Mississippi Daily Journal in Tupelo since 1992.
After graduation from Millsaps College in 1976, he interned at The Washington Post and then became a reporter for the Delta Democrat-Times in Greenville. He joined The Sun Herald in Biloxi in 1977, where he worked for 12 years as a reporter, capitol correspondent, managing editor and editorial page editor. After a brief stint as a Mississippi assistant secretary of state, he became editor of his hometown paper, The Meridian Star, in 1990 before moving to Tupelo two years later. Gray is a past president of the Mississippi Press Association and a four-time winner of the state's top editorial writing award.
[MS-E 0201] - Epiphany LV: Executive Editor: Lloyd Gray, The Northeast Mississippi (NEMS) Daily Journal, Tupelo, Miss. (3:34)
Lloyd Gray was a capitol correspondent in Jackson for The Sun Herald on the Mississippi Gulf Coast when he saw the newspapers in his state champion the cause for better education for Mississippi's children in 1982. The reporting was effective, and Gray believes Mississippi's newspapers motivated a "psychological breakthrough" for a state that had believed it was doomed to be last.