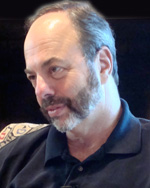 Ken Doctor
Author: "Newsonomics: Twelve New Trends That Will Shape the News You Get"
Ken Doctor, a leading news industry analyst, is the author of "Newsonomics: Twelve New Trends That Will Shape the News You Get" (St. Martin's Press). His Newsonomics.com is a daily, updated web companion to the book.
As a news industry analyst he covers the transformation of the news media, as it moves from print and broadcast to digital, focusing on changing business models and the journalism created.
His experience includes 21 years with Knight Ridder, as well as time spent in the worlds of magazines, alternative journalism and syndication.
[B-E 601] - Epiphany LXI: Newspaper industry analyst: Ken Doctor, author, "Newsonomics" Aptos, Calif. (2:13)
Ken Doctor started his career as an editor at a start-up alternative weekly newspaper in Eugene, Ore. His epiphany came when one of his reporters caught a local public official selling his vote on a major highway project and the story got results.