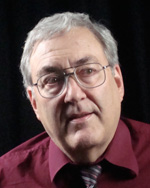 Tom Gorman
Senior Editor, Print
Tom Gorman joined the Sun in 2005 from the Los Angeles Times, where his 32-year career spanned local, state and national reporting before moving to the metro editing desk. Gorman was hired at the Sun as a metro columnist. To qualify for a covered parking spot for precious shade, he became an editor, and in December 2009 was named senior editor, print. He has a degree from Cal State Fullerton.
[NV-E 0201] - Epiphany LXVII: Senior Editor, Print: Tom Gorman, The Las Vegas Sun. (2:56)
Tom Gorman was working at The Los Angeles Times when a melancholy assignment brought home his newspaper's power. "Journalism touches a lot of people' lives," says Gorman, a lesson he re-learned when six teenagers died in an auto crash.