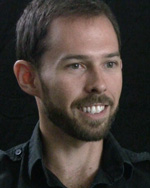 Nathan Eagle
Managing Editor
Nathan Eagle lives, works and plays on Kauaíi. An Ohio native, his passion for exploring new cultures has taken him from Spain to the middle of the Pacific. Starting as an environmental reporter, he now serves as managing editor of The Garden Island.
Eagle's passion remains fixed on holding elected officials accountable, providing a voice for endangered species and serving the community by delivering timely, accurate stories on the issues that matter most. Preserving journalistic integrity and maintaining high ethics are the foundation of daily decisions. When Eagle is not in the office doing his best to build his team of dedicated reporters – and improving his own performance through constant self-criticism – he is either in the water free diving or on the side of a mountain hiking.
[HI-E 0201] - Epiphany LXX: Managing Editor: Nathan Eagle, The Garden Island (3:25)
Nathan Eagle learned one of his first key lessons about journalism when he wrote a story for his high school newspaper that shook up the administration. That lesson about the power of the press was reinforced, at his first professional newspaper job, when he discovered a prominent community deacon was neglecting his tenants. He told the story to the community and then learned how to hang tight, even when criticism flowed his way.