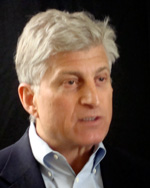 Mark Zusman
Editor & Co-Owner
Mark Zusman is the editor and co-owner of Willamette Week and The Santa Fe Reporter. Zusman has been editor of Willamette Week for 26 years. In 1986, Zusman was awarded the Gerald Loeb award for Business Journalism for an article he did about Nike.
Zusman is a past-president of the board of the Independent Media Institute and the board of the Association of Alternative Newsweeklies. He serves as a judge for the Payne Award for Ethics in Journalism. He has taught journalism at the University of Oregon and lectured at the Academy of Alternative Journalism at the Medill School of Journalism at Northwestern University. He is also a former fellow of the East-West Center.
[OR-E 0201] - Epiphany LXXIV: Editor: Mark Zusman, Willamette Week (1:59)
Mark Zusman says, "On a regular basis, at Willamette Week, I am reminded both of the responsibility of what we do and yet the power of what we do -- even in this small little corner of the world." He provides several examples to verify his point.