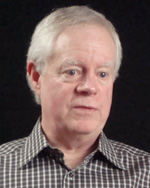 Frank Blethen
Publisher
Frank Blethen, publisher of The Seattle Times, is a member of the fourth family generation. There are ten members of the family's fourth and fifth generations active in the journalism company's management and governance.
Blethen is a strong advocate for independent journalism, family–owned businesses, and a long–time active participant in the national grass–roots movement in opposition to newspaper and media ownership consolidation. In recognition of Frank's leadership on behalf of quality journalism, he was the first publisher awarded the American Society of News Editors' News Leadership Award.
[WA-E 0101] - Epiphany LXXV: Publisher: Frank Blethen, The Seattle Times (3:33)
Frank Blethen tells the stories of The Times' coverage of Boeing 737 flaws and the misdeeds of Washington Congressman Brock Adams – two instances when pressure was put on the newspaper to constrain its coverage.