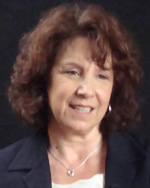 Suki Dardarian
Managing Editor (Curation)
Suki Dardarian is one of two managing editors at The Seattle Times. In early 2011 she was appointed to oversee print and digital "curation" – editing, design and production – as well as seattletimes.com.
Dardarian joined The Times in 2000 as an assistant managing editor for metro news. She later became deputy managing editor and then managing editor, initially supervising news coverage – including local and business news, investigations, sports and features. She is a former president of the Associated Press Managing Editors, a national organization of editors whose newspapers are members of the AP. She has served twice as a Pulitzer juror.
[WA-E 0301] - Epiphany LXXVII: Managing Editor (curation): Suki Dardarian, The Seattle Times (3:23)
Suki Dardarian sees "the power and purpose of journalism" in her newspaper every day. She cites a recent article, "Seniors for Sale" (included in The Times enterprise story collection), that reports on the mishandling of senior citizens in adult family homes. "Nobody knew about these situations," says Dardarian.