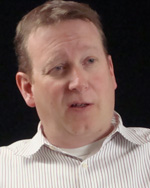 Nick Ehli
Managing Editor
A graduate of the University of Montana School of Journalism, Nick Ehli has worked for Montana newspapers as a reporter, editor and columnist for nearly 30 years, including a lengthy stint as a crime reporter for the Billings Gazette.
Ehli is the editor-in-chief of Montana Quarterly magazine and has edited several regional books. He lives a blissful existence in Bozeman with his wife and two children.
[MT-E 0201] - Epiphany LXXXI: Managing Editor: Nick Ehli, The Bozeman Daily Chronicle (3:38)
Nick Ehli was a young reporter in Billings, Mont., when he decided to do a story about six-man football in the tiny community of Custer, Mont. He enjoyed writing the story, but was deeply touched when he learned how his reporting affected a tough rancher near that small Montana town.