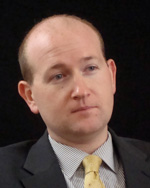 Jonathan Kealing
Assistant Director Media Strategy
Jonathan Kealing joined the Lawrence Journal-World as a part-time reporter in December 2006 and became assistant director of media strategy in June 2010.
In this role, he helps launch and nurture some of the company's newest sites such as WellCommons and Sunflower Horizons. He also helps ensure the continued growth, in traffic and interaction as well as revenue, for LJWorld.com, KUsports.com and lawrence.com. His primary focus is helping the staff engage the community via our websites and social media, and on creating interactive, multimedia journalism, which promotes website growth.
[KS-E 0301] - Epiphany XCI: Assistant Director, Media Strategy: Jonathan Kealing, The Lawrence journal-World (2:50)
Jonathan Kealing had an "ah-ha" moment after he received an anonymous package bearing confidential Kansas University documents. Kealing followed the document leak to its roots, wrote a story, and procedures were modified. "Seeing how the university changed was really powerful," he recalls.