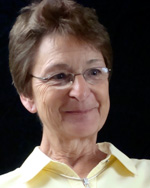 Laurie Pfeifer
Managing Editor
During her 35 years at the Aurora News-Register, Laurie Pfeifer has served as feature editor, photographer, news editor and managing editor. Before joining the News-Register staff, she was a feature writer at the Fremont Tribune in Fremont, Neb.
Pfeifer graduated from the University of Nebraska at Kearney in 1993 with a Bachelor of Science Degree in Journalism -- Comprehensive News/Editorial.
[NE-E 0201] - Epiphany XCIII: Managing Editor: Laurie Pfeifer, The Aurora News-Register (1:56)
Laurie Pfeifer got a dream assignment in college – cover a Robert Kennedy presidential campaign whistle-stop for her journalism class. Then the other shoe dropped. She also had to cover a Richard Nixon whistle-stop. She was a Kennedy fan, but her professor told her she would be graded "on fair and balanced reporting." She learned that accuracy trumps personal feelings, and it's a lesson she still practices.