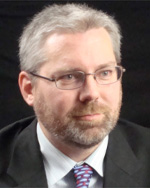 Tim McDougall
VP Products & Publisher
Tim McDougall is VP of Products for SourceMedia Group and Publisher of The Gazette. Tim has spent over 20 years in multiple marketing disciplines, including packaged goods, sports marketing, agency management, new product development, retail marketing, and media. His work with other companies includes Miller Brewing Company, the Houston Rockets, the New Orleans Hornets, GSD&M Advertising, and the P. F. Chang's China Bistro Inc. restaurant group.
[IA-E 0101] - Epiphany XCIV: V.P. Products and Publisher: Tim McDougall, Source Media, The Gazette; Cedar Rapids, Iowa (5:08)
Tim McDougall is a new entrant into journalism from the food, beverage and professional sports marketing industries. He has been at The (Cedar Rapids, Iowa) Gazette since 2010. As a newcomer, he is learning lessons frequently. When a vote on a tax levy to pay for flood protection in Cedar Rapids failed narrowly, he believes his newspaper did not dig deep enough to discover the undercurrent of community sentiment against the measure. He sees it as a lesson to look beyond traditional sources to get at the full story.