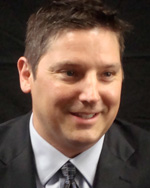 Scott Johnson
President and Publisher
Scott Johnson is the President and Publisher of the St. Cloud Times and Times Media. He started in that role in January, 2011. Prior to coming to St. Cloud, he was the Regional Advertising Director for Gannett Wis. based out of the Green Bay operation. He also served as the Ad Director of the Green Bay Press-Gazette. Johnson arrived in Green Bay in 2001 as the Retail and Classified Advertising Manager, became Ad Director in 2003 and Regional AD in 2005. He is a two-time Gannett President's Ring winner.
Johnson got his start in newspapers in 1990 working as an advertising salesperson and later sales manager for a group of weekly newspapers in suburban Madison, Wis. In 1999, he left the Madison area to be the Classified Ad Manager at the (Dubuque) Telegraph-Herald.
[MN-E 0101] - Epiphany XCV: Publisher & President: Scott Johnson; The St. Cloud Times; St. Cloud, Minn. (2:23)
Scott Johnson learned the power of the press when his newspaper printed an incorrect price in an ad for one of the newspaper's clients. "What you say will go a long way," says Johnson, and on that occasion it went the wrong way as well.