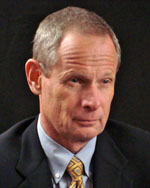 Paul Tash
Chairman, CEO and Editor
Paul Tash is chairman and CEO of the Times Publishing Co. and editor of the St. Petersburg Times. Tash started with the Times in 1978 as a local news reporter. He also has been a Tallahassee reporter, the city editor, metropolitan editor, Washington bureau chief and executive editor for the Times. From 1990-91, he was the editor and publisher of Florida Trend, a statewide business magazine owned by the Times Publishing Co.
Tash is chairman of the Poynter Institute for Media Studies, a school for journalists, which owns Times Publishing. He also serves on the boards of the Pulitzer Prizes, the Associated Press and the Newspaper Association of America. Tash graduated summa cum laude from Indiana University in 1976. He received a Marshall Scholarship and graduated magna cum laude with a bachelor of laws degree from Edinburgh University in Scotland in 1978.
[FL 0101] - Part 1: Intro and Contribution (7:33)
Paul Tash, chairman & CEO, Times Publishing Co., started his newspaper career at The St. Petersburg Times in 1978. Tash says his newspaper helps to "provide a sense of community" to the Tampa Bay region. We "help to create a common conversation around the dynamic of trends affecting the community," says Tash. He says his newspaper also has a "pronounced role in the movement of goods and services" in its region.
[FL 0102] - Part 2: Strategic Changes (6:52)
Paul Tash, chairman & CEO, Times Publishing Co., says during the recent recessionary period The Times attempted to "reduce costs in ways that would not show up to our customers," but it also launched two new journalism initiatives: tbt -- a daily, Monday-Friday, free newspaper; and Politifact.com, a Pulitzer Prize-winning news feature that fact-checks "statements by members of Congress, the White House, lobbyists and interest groups, and rates them on our Truth-O-Meter."
[FL 0103] - Part 3: Adaptation & the Future (3:29)
Paul Tash, chairman & CEO, Times Publishing Co., expects that his newspaper's circulation will grow in the next 3-5 years as the economy in Florida rebounds. He also expects that digital tablets, like the iPad, are potentially very important, but it's "not yet clear" exactly how they will affect newspaper organizations.
[FL 0104] - Part 4: Impact of Digital Revenues (4:13)
Paul Tash, chairman & CEO, Times Publishing Co., says he doesn't expect to see digital newspaper revenues match recent print newspaper revenues "during his career." Digital newspaper CPMs (advertising charges per thousand impressions) are simply too much lower than print newspaper CPMs. In reference to future readership, Tash says, "I'm not sure categorical statements about how young people won't read print are right. Just because 'everybody says something' doesn't mean it's true."
[FL 0105] - Part 5: Prospects & Preparation (1:31)
Paul Tash, chairman & CEO, Times Publishing Co., says when the St. Petersburg Times hires journalists, he looks for candidates with "a real zeal for the work" and people who can "tell me stories I want to hear."