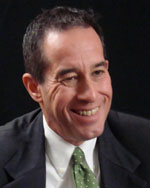 Neil Brown
Editor and Vice President
Neil Brown joined the Times in October 1993 as world editor overseeing national and international affairs. In May 2010, he was named editor and vice president. Before joining the Times, he served four years as managing editor of Congressional Quarterly, a weekly magazine devoted to national politics. Before joining CQ, he spent eight years as a reporter and editor at the Miami Herald, covering government and politics.
Brown is a Phi Beta Kappa graduate of the University of Iowa and is a member of the journalism school's Hall of Fame. He is a member of the American Society of News Editors' Board of Directors and a past president and board member of the Florida Society of Newspaper Editors.
[FL 0201] - Part 1: Introduction and Contribution (6:11)
Neil Brown, editor & V.P., The St. Petersburg Times, says he got into journalism because: "I always wanted to tell people stuff before anybody else could tell them." Brown says The Times aims to: "explain complicated issues with an independent voice …, shine a light on institutions …, and be a consumer advocate for information."
[FL 0202] - Part 2: Ethics & Content (5:07)
Neil Brown, editor & V.P., The St. Petersburg Times, says, "We have a culture of values." At The Times, says Brown, "If you have a question [about an ethical issue]…, our instincts are good and you should air it." Online, Brown says, "We now accept one-source stories." But he says The Times' reporters look for a second, confirming quote as soon as possible. Overall, we "do the best we can to tell the truth and be as accurate as possible," says Brown.
[FL 0203] - Part 3: Strategic Changes (3:15)
Neil Brown, editor & V.P., The St. Petersburg Times, says The Times has fully integrated its online and print news operations. And the newsroom has facilitated its web-first strategy by creating a "Now" desk to expedite the publication of breaking news online. "As a culture we see [the combined staffs] as one big journalism division," he says.
[FL 0204] - Part 4: Adaptation & the Future (2:57)
Neil Brown, editor & V.P., The St. Petersburg Times, says he expects a further expansion of The Times readership. "The reach is larger than ever," says Brown, "and there are more tools at our disposal."