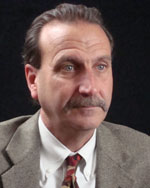 Joe DeLuca
Publisher Tampa edition and TampaBay.com
Joe DeLuca is a vice president and is publisher of both the Tampa edition of the Times and TampaBay.com. He has overall responsibility for leading strategic growth initiatives in Hillsborough and central and east Pasco counties, and he also serves as publisher of tbt* Tampa Bay Times, the company's free daily tabloid. His current leadership portfolio also includes Consumer Marketing and Operations. He serves on the company's executive team and board of directors. DeLuca originally joined the Times in 2001 as Director of Operations and was named a vice president and director of Operations in 2005.
Prior to joining the Times, DeLuca was production director of the Hartford(Conn.)Courant, where he also managed the newspaper's commercial printing division, including the printing ofInvestor's Business Daily for the northeast region. He is a graduate of the University of Hartford with a bachelor's degree in communications.
[FL 0301] - Part 1: Introduction and Contribution (5:01)
Joe DeLuca, Tampa publisher and V.P., TampaBay.com publisher, started at the St. Petersburg Times in November 2001. DeLuca says newspapers need to learn to look at the Internet "as a distribution channel and understand how our customers use it."
[FL 0302] - Part 2 (6:45)
Joe DeLuca, Tampa publisher and V.P., TampaBay.com publisher, says to run a successful online news and information service at a newspaper you "need to be able to evaluate a profitability path and marshal the organization to pursue that." DeLuca says there is "no silver bullet" to ensure the economic viability of newspapers. "The basic business model remains the same," says DeLuca, but "there will be many different revenue streams" to support it.
[FL 0303] - Part 3: Digital Business Strategies (3:39)
Joe DeLuca, Tampa publisher and V.P., TampaBay.com publisher, says, "In the print world we control everything…. In the digital world we only control what we give you. We don't control where [you read us.] We don't control the distribution system." Now, he says, "We need to be guided by people's behaviors" and use research "more than we ever did before."
[FL 0304] - Part 4: Adaptation & the Future (8:28)
Joe DeLuca, Tampa publisher and V.P., TampaBay.com publisher, says, "The rapid decline of print circulation has been greatly exaggerated. The notion we should walk away from any type of print products at this time," says DeLuca "would be a huge mistake in terms of its overall percentage of audience, and its overall percentage of contribution of revenue and profits to our company."