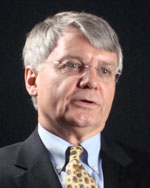 Otis Raybon, Jr.
Publisher
Otis Raybon, Jr. came to the Rome News-Tribune in 1998 as VP Operations, News Publishing Company, the Rome News-Tribune's parent company. In 2008, Raybon was named publisher of the News-Tribune along with responsibility for six weekly newspapers in NW Georgia and Alabama – including direct mail, magazine coupon booklets, and senior citizen publications.
Previously, he was publisher of the Dalton Daily Citizen News, the Griffin Daily News and the Americus Times Recorder. Raybon has served on the board of the Georgia Press Association. He has a degree in marketing from Georgia State University.
[GA 0101] - Part 1: Intro and Contribution (6:06)
Otis Raybon, Jr., publisher, The Rome News-Tribune, since May 2008, says he started his newspaper career as an 11-year-old paperboy in Griffin, Ga. Raybon says his newspaper provides "a well-defined look at what's happening in the community … that impacts our readers' lives." If his newspaper lost its sense of community, Raybon says, "That's when we lose to the Internet and to cable and to whatever else is out there."
[GA 0102] - Part 2: Strategic Changes (7:40)
Otis Raybon, Jr., publisher, The Rome News-Tribune, says his newspaper purchased a new DMG 430 singlewide press in 2007. "We make a concerted effort to understand the technology and to use it," says Raybon. "Every decision we make has to serve the readers and the advertisers."
[GA 0103] - Part 3: Adaptation & the Future (2:56)
Otis Raybon, Jr., publisher, The Rome News-Tribune, says a digital-only news organization could not support the size and quality of the reporting and editing staff he currently employs in his newsroom. He sees the greatest opportunity of the Web to support the print newspaper and vice versa.
[GA 0104] - Part 4: Prospects and Preparation (3:43)
Otis Raybon, Jr., publisher, The Rome News-Tribune, says at The News-Tribune you can write a story "that will help your community." "There's no other industry that allows that," says Raybon. Newsroom job candidates should "learn to write and be flexible," says Raybon, and "when you get here we're going to give you another education."