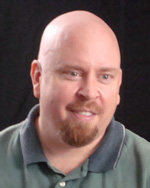 Richard Stein
Graphics / IT / Web Supervisor
Richard Stein oversees the IT and graphics departments as well as internet operations for The Garden Island's website. Before moving to Lihue, Stein began his newspaper career as the Graphics/IT/Website director for The East Oregonian in Pendleton, Ore.
In Lihue, Stein and his crew work hard at staying on top of the quickly developing internet technologies as directed by the parent company, Lee Enterprises. Stein began his printing career as a customer service representative for Century Publishing in Post Falls, Idaho. He is a graduate of the University of Idaho with a degree in Fine Arts and Graphic Design.
[HI 0301] - Part 1: Intro and Contribution (6:19)
Richard Stein, I.T. web supervisor, The Garden Island, joined the newspaper in June 2005. Stein was a page designer when the opportunity to oversee a newspaper's web activities was offered to him. "I realized this is the future," says Stein. Stein says The Garden Island is compiling "the public record" of its community.
[HI 0302] - Part 2: Web News & the Tsunami (5:56)
Richard Stein, I.T. web supervisor, The Garden Island, says, his newspaper made vital use of its website, March 2011, when the Japanese tsunami headed for the islands. Says Stein: "We used the tool like it was meant to be used, I think."
[HI 0303] - Part 3: Skills (2:10)
Richard Stein, I.T. web supervisor, The Garden Island, says in a small newspaper we have to multi-task. We have to "get a camera and get out" when needed, and some days "I have to be an extra reporter." He says his most important management asset is his "personal communication skills." In regard to technical skills, he says, lightheartedly: "The Internet is a fast moving river and I'm still looking for my life jacket." Fortunately, technical support from the corporate owner, Lee Enterprises, has made his job easier.
[HI 0304] - Part 4: Adaptation & the Future (4:03)
Richard Stein, I.T. web supervisor, The Garden Island, says The Garden Island will eventually build its newspaper, web-first. Lee Enterprises is providing a new digital content management system that will change the order of things. "We will build the website [with the daily reporting] and then build the print product from that," says Stein. "We are definitely going web-first in the next couple of years," says Stein.