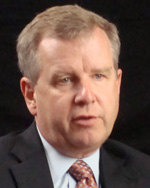 Chuck Peters
President & CEO
Chuck Peters is president and CEO of The Gazette Company, doing business as SourceMedia Group. He is on the board of directors of the Newspaper Association of America.
A lawyer by training, Peters graduated from the University of Iowa College of Law, and spent a decade in the appliance business, five years as president of Amana Refrigeration and until 1998 as Vice President – Administration of Maytag. Between appliance assignments, he was the CEO of Breakthrough, an Iowa City start-up software and consulting company engaged in developing effective early literacy programs for school systems.
[IA 0101] - Part 1: Story of The Gazette Initiative (10:20)
Chuck Peters, president and CEO, Source Media, The Gazette, has been with The Gazette Company since 1998. Peters got deeply involved in the direction of The Gazette after the company had a corporate meeting pondering "The Media Force of the Future." First, the Gazette Company "rationalized" its holdings. "We want[ed] to get to those activities that really serve our community and will provide information for the communities," says Peters. They ended up with a newspaper, a broadcast station, a commercial printing company and their online businesses. Peters served in committee leadership roles for the Newspaper Association of America (NAA) during the first decade of the 21st Century, but he found changing minds in the newspaper industry was a steep challenge. Subsequently, the Gazette Company determined to undergo significant change on its own, only to have its initial efforts temporarily submerged by the Cedar Rapids flood of 2008. Listen to Peters tell the story.
[IA 0102] - Part 2: Goals of the Gazette Initiative (8:10)
Chuck Peters, president and CEO, Source Media, The Gazette, says Source Media's goal is "to be a complete community connection. So wherever you are or whatever device or product you are using, you are able to get a remarkable user experience to access the information you need." To achieve that, says Peters, "That means we have to act totally differently." "Our journalists," says Peters, "now need to be pursuing the objective of community development, or a particular slice of that, and have to be creating a network of actionable, useable information that has great predictive value." (Peters has written extensively about this new paradigm on his blog: "
C3 – Complete Community Connection
".)