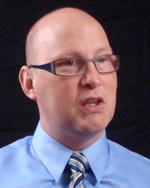 Mike Alexander
Online Director
Mike Alexander received a B.S. degree from the University of Idaho in Business and Marketing and a Masters degree from Boise State University in Economics.
In 2005, he joined the Coeur d'Alene Press as an account executive selling print, but within 3 months joined the New Media team selling online advertising. In October of 2006, he became the New Media/Online Director.
[ID 0301] - Part 1: Intro and Contribution (4:55)
Mike Alexander, online director, The Coeur d'Alene Press, started at the newspaper in May 2005. Alexander says The Press delivers "timely local news," we "try to help our businesses … grow," and "we are philanthropists." He says they also continue to be a part of "the local community network" that helps the community's non-profits.
[ID 0302] - Part 2: Skills (9:05)
Mike Alexander, online director, The Coeur d'Alene Press, says one of the challenges of an online director is to "take a mindset and change it." "We're not in the news-paper business anymore," says Alexander, "we're in the information delivery business." To simplify Internet engagement for its local advertisers, The Press has purchased a WSI (We Simplify the Internet) franchise to provide Internet services for advertisers. "We want to become a trusted source for their websites," says Alexander.
[ID 0303] - Part 3: Digital Products (7:22)
Mike Alexander, online director, The Coeur d'Alene Press, says, The Press introduced a subscription website – – in January 2010 to compliment its free Coeur d'Alene Press website. "We don't have nearly the traffic [we have on the free website], but we're seeing it grow," says Alexander. As to the future, "I don't foresee, at least in our rural community and small communities, newspapers going away," says Alexander; "I see the challenge in the metros."