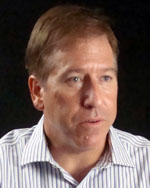 John Rung
Publisher
John Rung is the Publisher and Chief Operating Officer of Shaw Suburban Media in Crystal Lake, IL. Shaw Suburban Media publishes three daily newspapers in Crystal Lake, DeKalb, IL and St. Charles, IL, along with numerous weekly and monthly publications. The company also owns and operates multiple Web sites and a video-production division. Before joining Shaw in 2002, Rung worked for Freedom Communications, serving as the vice president of advertising for The Gazette, a 100,0000-circulation daily in Colorado Springs, CO. Rung is a native of Aurora, Il. and a graduate of Western Illinois University. He is married with three children and resides in Johnsburg.
[IL 0401] - The Story of the Northwest Herald (7:44)
John Rung, publisher, Northwest Herald, Crystal Lake, Ill., tells the story of his newspaper's lineage from its inception as a weekly in 1856, through its purchase by the Shaw Newspaper group in 1948, until the daily Northwest Herald was born from the consolidation of several McHenry County weeklies in 1986.