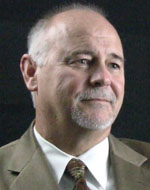 Bill Masterson, Jr.
Publisher
Bill Masterson, Jr. became publisher of The Times Media Company, a division of Lee Enterprises in November 2006, a company he has been with since 2000. Bill has held the title of publisher for over 22 years first being named to that position at age 27 as publisher of the Black Hills Pioneer in Spearfish, SD.
Since coming to Northwest Indiana, Masterson has been active with efforts to unite a diverse region. He is responsible for creating a movement called "One Region: One Vision," bringing leaders of the many and varied interests of the area together for identification of regional issues, discussion, and working for the common good of all residents. He also serves on the executive board of directors for the Boys & Girls Clubs of Northwest Indiana, the Barden Gary Foundation, and the Quality of Life Council.
[IN 0101] - Part 1: Introduction & Contribution (2:35)
Bill Masterson, Jr.; publisher, The Times, believes that a local newspaper should be an active "part of the community." He explains how The Times does that.
[IN 0102] - Part 2: Strategic Changes (3:19)
Bill Masterson, Jr.; publisher, The Times, explains how his newspaper has diversified and marketed its customer service and ad production operations to increase its cash flow in a period when newspaper advertising revenues have declined.
[IN 0103] - Part 3: Adaptation & The Future (9:06)
Bill Masterson, Jr.; publisher, The Times, says his newspaper has launched an ambitious project in cooperation with a local high school to determine the effectiveness of using social media to deliver credible news to the younger generation.