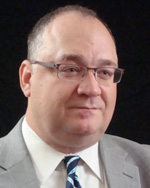 Dennis Anderson
Managing Editor
Dennis Anderson joined the Lawrence (Kan.) Journal-World as managing editor in 2005. The Journal-World won three consecutive Associated Press Managing Editor Convergence Awards (2007- 2009). Anderson is a member of the Associated Press Managing Editors board of directors.
Prior to joining the Journal-World, Anderson worked for Gannett Co., including serving as managing editor of the Norwich Bulletin in Connecticut from 1999-2005 and as metro editor of the Binghamton Press & Sun-Bulletin in New York from 1996-1999. He was recognized as one of Gannett's top 10 supervisors in 2000, and in 2006 won the Kansas Press Association's award for Best Column Writing.
[KS 0201] - Part 1: Introduction and Contribution (3:49)
Dennis Anderson, managing editor, The Lawrence Journal-World, started at the newspaper in April 2005. Anderson says his newspaper "is a place where discussion happens. It's a place where a community can learn about itself." He says The Journal-World delivers a vital service "just like teachers, firemen and policemen" do. "Just think what the community would be like if we lost any one of those," says Anderson.
[KS 0202] - Part 2: Ethics & Digital Content (5:56)
Dennis Anderson, managing editor, The Lawrence Journal-World, says, journalism ethics "comes down to doing the right thing. We need to treat our community with respect, and we do that," says Anderson. Anonymous online comments are "a tricky thing" says Anderson. "We need to give the community their chance to have their say," says Anderson. But "it's really a place where people – who are really not nice people –congregate." On balance, he believes the positive value of free expression outweighs the negative voices. "I will protect the right of all our commenters to be anonymous," he says.
[KS 0203] - Part 3: Strategic Changes (9:50)
Dennis Anderson, managing editor, The Lawrence Journal-World, says the newspaper's convergence newsroom training was valuable. "That helped us to learn how to use video," says Anderson. "When we get together for our morning meeting – each day – we talk about how we're going to tell a story and that includes visually. That's been a major change for us in the past year-and-a-half, two years," says Anderson. "We think about the web first and the audience – what is the story and how do we want to tell it." The news department also works in partnership with advertising sales. The Journal-World started a special Monday lifestyle section, "Go", to expand readership and advertising. "Print's still where we are right now in terms of growing our revenue," says Anderson. "It's going to have a major impact still for the next few years."
[KS 0204] - Part 4: Adaptation & the Future (9:56)
Dennis Anderson, managing editor, The Lawrence Journal-World, says, "It's very important that we maintain a good relationship with our community; that we know what's going on; that they know they can turn to us to find out what's happening." Anderson says being a reporter now is a 24-hour-a-day job. "You sleep with your cell phone next to your bed," says Anderson. Reporters also have to promote their stories as well as write them. "You have to tell the people that you write your story: 'Here it is!' – on Facebook and Twitter. And you have to grow your sources and maintain them," says Anderson.
[KS 0205] - Part 5: Preparation (2:05)
Dennis Anderson, managing editor, The Lawrence Journal-World, says to get hired today you must "be versatile. You must be comfortable with change." And you have to "know how to write a story and be curious," says Anderson. "You have to want to be in this business," says Anderson. It's not a job, he says, "it's a calling."