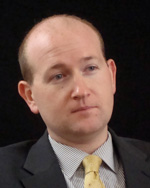 Jonathan Kealing
Assistant Director Media Strategy
Jonathan Kealing joined the Lawrence Journal-World as a part-time reporter in December 2006 and became assistant director of media strategy in June 2010.
In this role, he helps launch and nurture some of the company's newest sites such as WellCommons and Sunflower Horizons. He also helps ensure the continued growth, in traffic and interaction as well as revenue, for LJWorld.com, KUsports.com and lawrence.com. His primary focus is helping the staff engage the community via our websites and social media, and on creating interactive, multimedia journalism, which promotes website growth.
[KS 0301] - Part 1: Introduction and Contribution (6:14)
Jonathan Kealing, assistant director, media strategy, The Lawrence Journal-World, started this job in 2010. Kealing says his task is "looking at all the [Journal-World] news websites and seeing what we can do to grow audience." Kealing "dabbled in database journalism" and served as an online editor at The Journal-World before assuming his new job. Now he says he "works with the fellows in advertising and marketing."
[KS 0302] - Part 2: Skills (5:39)
Jonathan Kealing, assistant director, media strategy, Lawrence Journal-World, says technical skills are important, but the key skill is knowing your community. "The news organizations that survives and thrive in this era are the ones that ingratiate themselves with their community," says Kealing. "So that's just the first thing I think about: What can we do to help our community?" To succeed in a job like his Kealing believes a person also needs to be "committed to life-long learning." One reason Kealing likes working at The Journal-World is that he has a boss who periodically asks him: "What's getting in your way and what successes have you seen?"
[KS 0303] - Part 3: Adaptation & the Future (5:06)
Jonathan Kealing, assistant director, media strategy, The Lawrence Journal-World, says, "There could be a day when news is distributed [solely] digitally" but it's "a few decades down the road." In the near future, Kealing sees deals and contests, videos, and topical niches as the three best sources for new revenues from the web. He thinks social media's key role "is in driving audiences" to the website and the print edition. Kealing advises candidates for a job like his to "be flexible. Learn everything you can [about the new media]. And learn the basics – writing and journalism ethics." "Accurate information and good writing" are still the keys to a news organization's success, on any platform, according to Kealing.