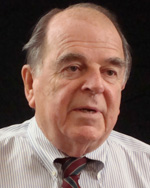 Dolph C. Simons Jr.
Chairman, The World Company; Editor, Lawrence Journal-World
Dolph Simons Jr. has been a director of the Associated Press; president of the Kansas Associated Press board of directors; director of the Inland Daily Press Association; director and president of the Kansas Press Association; trustee and board president of the William Allen White Foundation, which works to promote the journalistic ideals of the former Emporia, Kan., newspaper editor; and a Pulitzer Prize juror. He served as a director and board secretary of the American Newspaper Publishers Association (now Newspaper Association of America). He also is a former director of the Newspaper Advertising Bureau Inc.
Under his leadership, the World Company, headquartered in Lawrence, Kan., was until October 2010 one of the most integrated multimedia companies in the nation. At that time, the company sold its broadband division and is now focused on print and digital communication activities.
[KS 0401] - The Story of Lawrence Journal-World (6:09)
Dolph Simons, Jr., editor and chairman, The Lawrence Journal-World says his grandfather, W.C. Simmons, came to Lawrence with $50 in his pocket in 1891 and started the newspaper. There were seven newspapers in Lawrence in 1891 and over the years The Journal-World has survived 50 other newspapers with Lawrence roots. Control was eventually handed off to Dolph Simons, Jr.'s father, who then passed control to his son. In 1962, Dolph, Jr., who started at the newspaper as a 7-year-old carrier in 1941, became its publisher. The company started a cable TV system for Lawrence in 1971 and sold it in 2010. Now Simons is focused on taking the newspaper successfully through the digital age. "I think it's really important to see how we're going to manage this transition," says Simons.