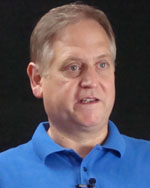 Ben Gish
Editor and Acting Publisher
Ben Gish, 54, was born in Frankfort, Ky., and moved to Whitesburg in January 1957, when his parents assumed ownership of The Mountain Eagle. He has worked at the Eagle since he was 5 years old, leaving only when he enrolled at the University of Kentucky in 1974. He graduated from UK in 1979, having paid his way with a long-term summer job in an underground coal mine in Letcher County, Ky. Gish has done most of the jobs at the Eagle and currently serves as the paper's editor and acting publisher.
[KY 0401] - The Story of The Mountain Eagle (7:12)
Ben Gish, editor & acting publisher, The Mountain Eagle, tells the story of his newspaper since his parents purchased it in 1956. The newspaper has been highly honored for its investigative reports about the coal mining industry. At one point, it offices were burned out, but it continued to publish nonetheless.