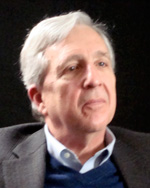 Miles Forrest
Publisher
Since 2000, Miles Forrest has been the Publisher of both The Courier in Houma, La., and The Daily Comet in Thibodaux, La. Forrest, a Thibodaux native and graduate of Nicholls State University, began his newspaper career in 1973 at the Houma Daily Courier. He has worked for The Courier or The Daily Comet in a variety of positions ever since.
Forrest is a past president of the Louisiana Daily Newspaper Association, the Louisiana Press Association, and the Louisiana Press Association Foundation.
[LA 0101] - Part 1: Intro and Contribution (4:19)
Miles Forrest, publisher, The Courier, joined that newspaper on the business side in July 1973. "We're constant, " says Forrest. "Although we are in a changing period … there is a connection to the past and hopefully to the future." Forrest believes his newspaper's continuity helps bind the community together.
[LA 0102] - Part 2: Strategic Changes (4:52)
Miles Forrest, publisher, The Courier, says, "We've shrunk our footprint, tried to be more efficient … and tried to take advantage of the web" to deliver some of our news in the recent recession. The Courier also combined resources with its sister New York Times Regional Group newspaper, The (Thibodaux, La.) Daily Comet. However, it learned it shouldn't move community school news to its website. "We found we can't move everything there," says Forrest. And The Courier restored those "Kodak moments" to the print edition.
[LA 0103] - Part 3: Adaptation & the Future (7:03)
Miles Forrest, publisher, The Courier, says, "Print will diminish, but not leave us in small communities -- at least not during my lifetime." Like many publishers, Forrest says, "Ultimately we need to deliver the news the way our readers would like to receive it." And he also expects his newspaper will deliver "more aggregation" and utilize "community sources" to collect the news.
[LA 0104] - Part 4: Digital Revenues (9:26)
Miles Forrest, publisher, The Courier, says his newspaper has experienced "a shrinking in print advertising and a growth in our digital sales." But, he says, "The revenues that have come from the digital [side] have not replaced the revenues we have lost on the print side."
[LA 0105] - Part 5: Prospects & Preparation (4:03)
Miles Forrest, publisher, The Courier, says that anyone entering newspaper journalism now "needs to embrace the possibilities and not the obstacles." And if you work at The Courier, says Forrest, "This is a place you can come and get a front-page byline. And you can get it in the first week you are here."