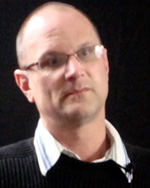 Keith Magill
Executive Editor
Keith Magill is executive editor of The Courier in Houma, La., and its sister paper, the Daily Comet in Thibodaux. He has spent most of his 26-year career at the papers, with stints as a reporter at the Wilmington Star-News in North Carolina and city editor at the Tuscaloosa News in Alabama.
The Louisiana Press Association named The Courier, under Magill's leadership, Newspaper of the Year in its circulation category for the past six years. Magill, an award-winning columnist, was recognized statewide and regionally for his authoritative essays about two of his community's most pressing issues: hurricane protection and coastal land loss. He graduated from Loyola University in his hometown, New Orleans.
[LA 0201] - Part 1: Introduction and Contribution (5:58)
Keith Magill, executive editor, The Courier, started at the newspaper in 1985 and, after a hiatus, became executive editor in 2002. He loves journalism because, "It's given me a life that's allowed me to keep learning." He says his newspaper gives its readers, "the raw material it needs to connect the dots in life–especially when it comes to navigating [their] local community."
[LA 0202] - Part 2: Ethics & Content (4:31)
Keith Magill, executive editor, The Courier, says his newspaper uses the New York Times code of ethics and the SPJ code of ethics. "If we do everything the SPJ codes says," says Magill, "then we will do everything the New York Times Ethics Code says too." As to anonymous reader comments on The Courier's website: "Some of the best and some of the worst" comments turn up there, says Magill. But sometimes, he says, "… They are just dumb."
[LA 0203] - Part 3: Strategic Changes (6:46)
Keith Magill, executive editor, The Courier, says The Courier has recently written new job descriptions for its news staff. It's been a period "of constant change," says Magill. "Print is still the core medium. We are stretched between two mediums," says Magill. "You try your best and you learn from what happens."
[LA 0204] - Part 4: Adaptation & the Future (4:26)
Keith Magill, executive editor, The Courier, says, "My guess is that print will be around the rest of my career." But he says, the bottom line is that a news medium can succeed only if "it is valuable to people and relevant to people in their lives." "Readers have the ultimate say about where [the news] is going," says Magill.
[LA 0205] - Part 5: Prospects & Preparation (1:58)
Keith Magill, executive editor, The Courier, says, "Anything that hones your critical thinking skills … or stretches your ability to learn … prepares you for journalism." You need to "push the boundaries of what you thought you could do and what you thought you can learn," says Magill.