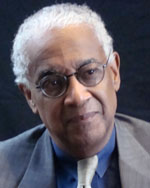 John J. Oliver
Chairman of the Board & Publisher
John (Jake) Oliver holds a B.A. degree from Fisk University in Nashville, Tenn. (class of 1969), and a J.D. degree from the Columbia University School of Law, New York, N.Y. (class of 1972). He is a member of both the New York and Maryland bars.
Oliver served two terms (1999--2003) as President of the National Newspaper Publishers Association (NNPA), the trade organization for publishers of Black owned and operated newspapers in the U.S. He also served as president of the Maryland-D.C.-Delaware Press Association. Oliver was the Chairman of the Maryland Higher Education Commission, which provides curriculum and financial over-site of all the higher education institutions in Maryland. He serves on numerous boards such as the First Mariner Bank, the Kennedy Krieger Institute and the Charles Street Development Corporation. Oliver is a life member of the NAACP and the Kappa Alpha Psi Fraternity. For the past nine years, Oliver has been a participant in the Media Focus Group of the Aspen Institute in Aspen, Colo.
[MD 0101] - Part 1: Intro and Contribution (5:59)
John J. Oliver, Jr., CEO & publisher, The Afro-American, says it's "the perspective that drives how we approach an event that makes us different." "We reflect a level of the community that is not [with]in the interests of the daily paper," says Oliver.
[MD 0102] - Part 2: Strategic Changes (2:49)
John J. Oliver, Jr., CEO & publisher, The Afro-American, says his newspaper has launched a new Prince George's county print edition to take advantage of the shifting demographics in its region.
[MD 0103] - Part 3: Adaptation & the Future (7:40)
John J. Oliver, Jr., CEO & publisher, The Afro-American, says he believes that 10-12 years from now The Afro-American will no longer be delivered on print, but he admits, he made a similar prediction in the early 90s, that print would be gone in less than a decade.
[MD 0104] - Part 4: Prospects and Preparation (2:01)
John J. Oliver, Jr., CEO & publisher, The Afro-American, says, "it's a challenging, hard working, educational, fun time" to be working for a newspaper. "We've got to experiment," he says, "but we can have a lot of fun figuring this [the future of newspapers] out."