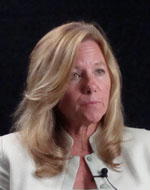 Sandy Petykiewicz
Editor & Publisher
Sandy Petykiewicz was editor of the Citizen Patriot for 12 years before being named publisher in 1999. She added the editor's title for a second time in 2010, when the editor retired. In 2009 she assumed the additional responsibility as chief executive for Ann Arbor Offset, a new commercial printing company formed when the Ann Arbor News closed. She also has oversight responsibility for the Saginaw, Bay City and Flint newspapers, all owned by Advance Publications.
Sandy is married to Ed Petykiewicz, a fellow journalist who retired in July 2009 after serving 22 years as editor of the Ann Arbor News. They have one daughter, Kendall. They live in Clark Lake in Jackson County.
[MI 0401] - The Story of the Citizen Patriot (2:06)
Sandy Petykiewicz, editor & publisher, Jackson Citizen Patriot, tells the story of her newspaper, which includes many years of local ownership and a Pulitzer Prize for Editorials.