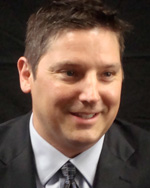 Scott Johnson
President and Publisher
Scott Johnson is the President and Publisher of the St. Cloud Times and Times Media. He started in that role in January, 2011. Prior to coming to St. Cloud, he was the Regional Advertising Director for Gannett Wis. based out of the Green Bay operation. He also served as the Ad Director of the Green Bay Press-Gazette. Johnson arrived in Green Bay in 2001 as the Retail and Classified Advertising Manager, became Ad Director in 2003 and Regional AD in 2005. He is a two-time Gannett President's Ring winner.
Johnson got his start in newspapers in 1990 working as an advertising salesperson and later sales manager for a group of weekly newspapers in suburban Madison, Wis. In 1999, he left the Madison area to be the Classified Ad Manager at the (Dubuque) Telegraph-Herald.
[MN 0101] - Part 1: Introduction & Contribution (4:14)
Scott Johnson, president and publisher, Times Media, The St. Cloud Times, has been with The Times since Jan. 2, 2011. Johnson says his newspaper is deeply involved in the community, delivering both news and public service information. When he asked an audience, at a recent citywide reading event, why they were there, Johnson says the audience said, "[We] read about it in the Times." Johnson says his newspaper offers the most comprehensive coverage of their central Minnesota community. "Nobody has the feet on the street that we have." And Johnson says his newspaper is deeply committed to investigative reporting. "We make it a point to have a watchdog piece literally every Sunday," says Johnson.
[MN 0102] - Part 2: Strategic Changes (3:32)
Scott Johnson, president and publisher, Times Media, The St. Cloud Times, says his newspaper has recently been focusing on the print side. In the rush to new media, Johnson says, his staff has had to reassess and say, "'Hey, wait a minute.' We still have a lot of people reading us in print." Johnson says there may have been a tendency to "try to do too many things." "So we really talk about regaining focus back to the daily newspaper, the website [and] just a couple of niche publications and do them really, really well. Instead of trying to be everything, to everybody, in every niche."
[MN 0103] - Part 3: Adaptation & the Future (3:58)
Scott Johnson, president and publisher, Times Media, The St. Cloud Times, says, "As far out as I can see, you're going to have your printed newspaper." He's also excited about the opportunities that the digital delivery of news and information offer, but he says, "Somewhere in all of this we have to have a sustainable business model and deciding what that looks like, I think, is the exciting thing. This is the most exciting time, ever, to be in the newspaper business." Johnson is also pleased that the news people are contributing to finding new revenue streams. "We've seen more of a collaboration between news and advertising," says Johnson, "than in the first 100 years or so of the printed version [of news]."
[MN 0104] - Part 4: Digital Revenues (5:34)
Scott Johnson, president and publisher, Times Media, The St. Cloud Times, says his sales department has a digital sales specialist, but overall, "We expect every salesperson to be able to sell every product we offer." He thinks it is difficult to expect any limit on digital revenues because "We're always inventing new ad units on the website." He also says mobile platforms offer unlimited revenue potential. "A year or so ago our page views in mobile wouldn't have been worth selling," says Johnson but that's changed and now the mobile user participation is growing rapidly.
[MN 0105] - Part 5: Prospects & Preparation (2:18)
Scott Johnson, president and publisher, Times Media, The St. Cloud Times says, "If you want to learn about news you couldn't be in a better place because you're going to do it all." Despite concerns about the future of newspapers, Johnson says you need to see the future in context. "Pick an industry where there isn't a bit of pessimism," says Johnson. This is the most exciting time to be in this industry, says Johnson, "Because we get to help chart the course…."