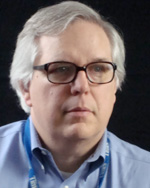 Mike Knaak
Assistant Managing Editor/Digital
Mike Knaak is responsible for news content in Times Media's family of websites, breaking news coverage online and in print, photos, multimedia and newsroom systems. He also works with reporters on computer-assisted reporting enterprise. Mike has worked at the Times since 1975 in a variety of jobs including regional news editor, photo and graphics editor, assignment editor and systems editor.
Knaak is a former president of the Minnesota Pro Chapter of the Society of Professional Journalists. He is an adjunct faculty member at St. Cloud State. He graduated from St. Cloud State in 1975 with a Bachelor of Arts degree.
[MN 0301] - Part 1: Introduction & Contribution (3:42)
Mike Knaak, asst. managing editor, digital, The St. Cloud Times, started at The Times in July 1975. Knaak was a photographer and an AME of news before assuming his digital management role. "Now," he says, "I do essentially the same work for the web. So it was fairly easy for me to switch my emphasis from mostly print to mostly digital," he says.
[MN 0302] - Part 2: Skills (1:38)
Mike Knaak, asst. managing editor, digital, The St. Cloud Times, says technical skills are not the key to digital news management. "What's important is what's always been important," says Knaak, "curiosity … a respect for words and ideas, and an ability to learn things." "What won't change are the standards of the business," says Knaak. "What won't change is the ability to recognize a good story." "What's really important is the passion for the audience," says Knaak. "The tools are just incidental."
[MN 0303] - Part 3: Adaptation & the Future (6:40)
Mike Knaak, asst. managing editor, digital, The St. Cloud Times, likes the versatility of the digital world. "What's great about it is it gives what was a newspaper company the ability to be a broadcaster … to be a radio station … to be a digital company … just as well as to be a print company." But he still sees a future for print. "I don't see the newspaper, that gets to your house, disappearing," says Knaak. "The hunger for the printed page has not gone away."