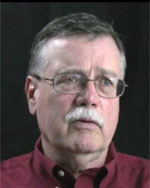 George Kennedy
Former Managing Editor, Professor Emeritus
GEORGE KENNEDY worked for 10 years at daily newspapers in Delaware and Florida before joining the Missouri School of Journalism faculty in 1974. At Missouri, Kennedy has served as chairman of the Editorial Department and as associate dean. Many recent alumni know him best as managing editor of the school's teaching newspaper, the Columbian Missourian -- a position he held for almost 12 years. Kennedy's academic interests center on journalistic practice and the future of the profession. He has been a Fulbright lecturer in New Zealand and a visiting professor in Slovakia and Spain. His most recent articles have appeared in The American Editor and Columbia Journalism Review, and he has co-authored three textbooks in reporting and writing. Kennedy holds a bachelor's degree and a doctorate from Missouri and a master's degree from the University of Pennsylvania.
[MO 0401] - The Story of the Columbia Missourian (5:13)
George Kennedy, the former managing editor of the Columbia Missourian, tells the story of this unique non-profit, commercial newspaper, whose inception was coincidental with the beginning of the School of Journalism at the University of Missouri in Columbia, Mo.