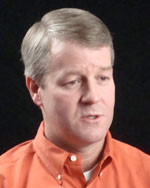 Clay Foster
President, CEO & Publisher
Clay Foster is a native son of Northeast Mississippi. In addition to being a carrier early in his life and until he graduated from the University of Mississippi, Foster has been with the Journal in a full-time capacity since 1992 and has been chief operating officer since 2000. He assumed the additional titles of president in 2005 and publisher in 2010.
His career at the Journal has included stints as pre-press manager, production director and director of operations, as well as interim assignments as advertising director and circulation director. He is a retired major in the Mississippi Army National Guard, having served 22 years, including 15 months in Operation Iraqi Freedom.
[MS 0401] - The Story of Northeast Mississippi (NEMS) Daily Journal (6:45)
Clay Foster, publisher, NEMS Daily Journal, says the newspaper celebrated its 140th anniversary in 2010. The modern history of the NEMS Daily Journal began in 1934 when George McLean purchased the newspaper. McLean expanded the weekly newspaper to a 6-day, Monday-Saturday, daily and established the non-profit CREATE Foundation that owns the newspaper and uses a share of its operating revenues to support regional activities. McLean also conceived the newspaper's regional coverage approach and renamed the newspaper, to reflect that, in 1973.