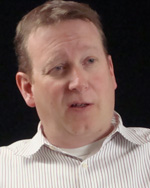 Nick Ehli
Managing Editor
A graduate of the University of Montana School of Journalism, Nick Ehli has worked for Montana newspapers as a reporter, editor and columnist for nearly 30 years, including a lengthy stint as a crime reporter for the Billings Gazette.
Ehli is the editor-in-chief of Montana Quarterly magazine and has edited several regional books. He lives a blissful existence in Bozeman with his wife and two children.
[MT 0201] - Part 1: Intro and Contribution (7:04)
Nick Ehli, managing editor, The Bozeman Daily Chronicle, started at the newspaper 11 years ago and became managing editor in 2007. Ehli says, "We focus on local news. We're the source of information for what's going on in Bozeman and the Gallatin Valley." "People care about this community," says Ehli, "and they really rely on a newspaper to keep them informed about what's going on."
[MT 0202] - Part 2: Ethics & Digital Content (5:33)
Nick Ehli, managing editor, The Bozeman Daily Chronicle, says The Chronicle has a code of ethics in its handbook. But, he says, "[ethics] needs to be a living thing that we talk about … and we do that frequently." Like many editors he is concerned about the quality of the content of online reader comments, "I think it's a place where the newspaper has a responsibility to rein in some of these folks," says Ehli.
[MT 0203] - Part 3: Strategic Changes (5:24)
Nick Ehli, managing editor, The Bozeman Daily Chronicle, says the quality of the newspaper's website improved when it hired a web editor. "Not only does he know about websites," says Ehli, "but he has been a reporter… so he know what it means to be at a newspaper." Ehli says the addition of "mo-jo" units for his reporting staff – a Kodak still and video camera, a laptop and Wi-Fi cards – has improved its web products. "They can file video stories from wherever," says Ehli. On the downside, a small reporting staff – reduced from eight to five fulltime reporters – has reduced the newspaper's coverage. "Maybe we don't get to every meeting now," says Ehli.
[MT 0204] - Part 4: Adaptation & the Future (4:46)
Nick Ehli, managing editor, The Bozeman Daily Chronicle, says, "We need to be constantly changing with the technology of how people receive the news." But Ehli still sees a long future for print newspapers. "[Our readers] appreciate getting breaking news on their phones," says Ehli, "but they still like to sit down with their newspaper and a cup of coffee."
[MT 0205] - Part 5: Prospects & Preparation (2:02)
Nick Ehli, managing editor, The Bozeman Daily Chronicle, says multi-media skills are a good asset for aspiring reporters. But, he tells them, "Don't lose sight of the fact that … first and foremost you need to be a reporter, and you need to be a great writer."