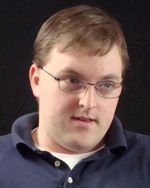 Michael Becker
Web Editor
Michael Becker joined the Chronicle in 2005 and became web editor in 2009. In addition to his work for the paper, he has taught writing to college freshman, edited doctoral dissertations, written for magazines and worked as a science reporter. His interest in online journalism grew out of a fascination with blogs and hypertext in the early 2000s and out of the certainty that Web technology could be used to tell important stories in interesting ways.
Becker is a graduate of Montana State University with a master's degree in English. He lives in Bozeman with his partner, Susan, taking care of his two sons and a few dozen blogs and websites.
[MT 0301] - Part 1: Intro and Skills (6:09)
Michael Becker, web editor, The Bozeman Daily Chronicle, started at the newspaper, in his current job, in 2009. Becker says to function as a web editor a person needs "a constant interest in new things … tempered by the knowledge that things come and go." He says you also need to be "reserved enough to wait and see what develops and wait to see what really matters." Fundamentally you need to "keep the goal in mind that it's about 'telling the story,'" says Becker.
[MT 0302] - Part 2: Creating Online Journalism (5:51)
Michael Becker, web editor, The Bozeman Daily Chronicle, says The Chronicle tries to use its digital tools and its website "to bring as many extra features to stories as we can." When covering a story Becker advises The Chronicle reporting staff to "ask [sources] if they have any documents or originals that they would like to give us" to provide further context. Becker expects the Chronicle's print edition to persist for many years. "Montana is not the most wired state in the nation," says Becker.
[MT 0303] - Part 3: Preparation (2:24)
Michael Becker, web editor, The Bozeman Daily Chronicle, says students need to learn how to manage "raw data in a meaningful way … and then take raw data and convert it into a story. That's a skill that's going to be essential in the future," says Becker. "The ability to convert [data] into something readable – useful to people. That will be a core skill," says Becker.