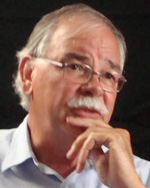 Mike Jacobs
Editor & Publisher
Mike Jacobs has been editor of the Grand Forks Herald since 1984 and editor and publisher since 2004. He grew up milking cows near Stanley, N.D., was graduated from the University of North Dakota and has worked as a farm laborer and a bar tender. His career in newspapers includes stops in Dickinson, Mandan and Fargo, N.D. The Herald won the Pulitzer Prize for Public Service after the Red River flood of 1997. Jacobs was named editor of the year and won ASNE's distinguished writing award for his flood-related editorials.
[ND 0101] - Part 1: Introduction & Contribution (8:41)
Mike Jacobs, editor & publisher, The Grand Forks Herald, has been with the newspaper since 1978; he became the editor in 1984. Jacobs says The Herald "helps to give Grand Forks an identity." "It reflects what happens in the community," says Jacobs. The Herald also "connects buyers and sellers in a way that nothing else does," says Jacobs. "The newspaper is the way that business is done."
[ND 0102] - Part 2: Ethics & Content (8:10)
Mike Jacobs, editor & publisher, The Grand Forks Herald, says The Herald has decided not to employ a written code of ethics because "it can be used against you and can erode your effectiveness." When ethical issues arise "there are no yes-or-no answers," says Jacobs. Ethical questions prompt wide newsroom discussion, "and it is absolutely correct for people to be on several different sides [of an issue.]" "What I tell the copy desk is: 'I want to be comfortable defending what you did,'" says Jacobs.
[ND 0103] - Part 3: Strategic Changes (7:42)
Mike Jacobs, editor & publisher, The Grand Forks Herald, says its website has helped guide their coverage: "It allows readers the choice of what they're going to see and it allows us to track what they read. The web informs our reporting in ways that I wouldn't have imagined in 1997," says Jacobs. The Herald and its parent company, Forum Communications, have also created an ancillary website, "Area Voices," to solicit community comment and reporting. "We're looking for content that we can reverse publish – so we can print [it]," says Jacobs. "We can draw this out from people in ways that has never happened before," says Jacobs.
[ND 0104] - Part 4: Adaptation & the Future (8:09)
Mike Jacobs, editor & publisher, The Grand Forks Herald, sees a long future for the printed newspaper. "I have always believed and continue to believe that The Herald will be printed," says Jacobs. "There is part of the market, I think, that will always want paper. Paper has a future, but [news] will be delivered in many other ways as well."
[ND 0105] - Part 5: Prospects & Preparation (2:32)
Mike Jacobs, editor & publisher, The Grand Forks Herald, says, "This is a business that is loaded with opportunity because the public demands information. It's going to be very exciting for young people," says Jacobs, "because there's going to be enormous change and you're going to be right there with it."