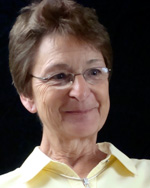 Laurie Pfeifer
Managing Editor
During her 35 years at the Aurora News-Register, Laurie Pfeifer has served as feature editor, photographer, news editor and managing editor. Before joining the News-Register staff, she was a feature writer at the Fremont Tribune in Fremont, Neb.
Pfeifer graduated from the University of Nebraska at Kearney in 1993 with a Bachelor of Science Degree in Journalism -- Comprehensive News/Editorial.
[NE 0201] - Part 1: Introduction and Contribution (3:30)
Laurie Pfeifer, managing editor, The Aurora News-Register, started at the newspaper as a feature writer in 1976. Pfeifer got the newspaper bug in 6th grade when her English teacher told her "she ought to be a writer." She sees The News Register's contribution to the community in a long-term perspective. "We record history," says Pfeifer. "It's been that way for 141 years." Like her publisher, Pfeifer also sees the newspaper's role as a force for positive change. "We try to identify [local] issues before they become full-blown problems and in a sense we can affect change…" says Pfeifer.
[NE 0202] - Part 2: Ethics & Digital Content (3:09)
Laurie Pfeifer, managing editor, The Aurora News-Register, says her staff tries to follow a simple rule: produce "accurate, fair and balanced reporting." "We go to great lengths trying to provide both sides to every story." Pfeifer also says The News-Register strives to meet these standards on its website. "All of us post to our website," says Pfeifer, "but we never post without a second look from somebody else."
[NE 0203] - Part 3: Strategic Changes (5:04)
Laurie Pfeifer, managing editor, The Aurora News-Register, says a major change at her newspaper was converting a monthly agriculture report to a weekly report. Agriculture is important because "that's what drives the economy here," says Pfeifer. She says the result has been better coverage and more advertising sales. Pfeifer says in recent years "we devote more time to online than we ever did before." In 1995, The News-Register was the first Nebraska weekly newspaper to create a news website.
[NE 0204] - Part 4: Adaptation & the Future (1:57)
Laurie Pfeifer, managing editor, The Aurora News-Register, says the key to her news weekly's success is content generation. She sees more web development and mobile apps in the future, but "you have to have newspaper content, otherwise those other [applications] are worthless."
[NE 0205] - Part 5: Preparation (2:05)
Laurie Pfeifer, managing editor, The Aurora News-Register, sees good prospects for students who care about communities and want to report about them. "There's a future for reporters in weeklies and dailies," says Pfeifer. "Maybe more in weeklies; they're just not going to go away."