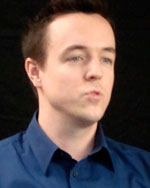 Sean Oates
Web Editor
Sean Oates is the web editor at NorthJersey.com, the news site for North Jersey Media Group's family of newspapers, including The Record and the Herald News daily publications. The site attracts 1.7 million monthly unique visitors.
Born and raised in Bergen County, N.J., Sean graduated from Ramapo College in 2000.
[NJ 0301] - Part 1: Intro and Contribution (6:16)
Sean Oates, web editor, Northjersey.com, The Record (Bergen County), began working at The Record during an internship when he was 19. He recently returned to newspaper work, and to be closer to family, after three years in Los Angeles working for Metromix.com, a nationwide network of entertainment websites owned by Gannett.
[NJ 0302] - Part 2: Skills (5:18)
Sean Oates, web editor, Northjersey.com, The (Bergen) Record, says a web editor needs to know all the tools of the digital trade and to know how to use them when it's crunch-time. "It's a fulltime job to stay on top of everything that is new," says Oates.
[NJ 0303] - Part 3: Strategy (2:30)
Sean Oates, web editor, Northjersey.com, The (Bergen) Record, says his newspaper is "thinking in a digital-first way now." Despite the growth of digital news delivery, Oates says, "The desire for the print experience is still quite strong."