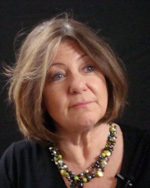 Ginny Sohn
Associate Publisher
Ginny Sohn is the associate publisher at The Santa Fe New Mexican. She has held this position for 5 years and prior to that she was the advertising director. She began her career in publishing in 1974 in New York City working for Conde Nast Publications. After relocating to Santa Fe, NM she began working for The New Mexican while it was a Gannett paper and in the mid-80's was promoted to ad director at the Reno Gazette Journal. In 1989 she returned to The New Mexican as ad director and later that year the paper once again was back to independent ownership.
Sohn holds a Bachelor of Science in Business Administration and Management from the University of Phoenix. She and her 15 year old son Sage live in Santa Fe and he recently co-starred in the musical "Guys and Dolls".
[NM 0101] - Part 1: Intro and Contribution (5:19)
Ginny Sohn, associate publisher, Santa Fe New Mexican, started at The New Mexican in 1981, left for a period, and returned in 1989. She says the newspaper's mission is simply "to do good" and to be the "source of information for this town." "We know the community trusts us and relies on us for news of all kinds," says Sohn. "We cover all the things that nobody else does."
[NM 0102] - Part 2: Strategic Changes (9:53)
Ginny Sohn, associate publisher, Santa Fe New Mexican, says her newspaper experienced "serious declines in revenue" beginning in 2008 when the national recession began. Overall the newspaper's staff was reduced from "up to 250 full time employees to 180" since then. One of its key changes was instituting a more sophisticated cost-accounting system. Sohn says they now have "individual P&Ls for every aspect of our business, which helps us to be quicker, nimble and more flexible." During this turnaround, the newspaper revised its classified advertising policies: offering free classifieds for items less than $1,000: stopped publishing a free, weekly Spanish Language newspaper, and dropped its e-edition to focus its human and financial resources on key, core areas of its business.
[NM 0103] - Part 3: Adaptation & the Future (6:24)
Ginny Sohn, associate publisher, Santa Fe New Mexican, says "We are taking steps to be at the forefront of the technology … [but] we still see a very strong print need." Sohn says they are aware of "the trendiness of digital vendors and digital products. Many of them don't stick," says Sohn, "and the beauty of newspapers is that they do stick." "The challenge is to move us when the timing dictates," says Sohn, "and not to get too far out ahead of [the new technologies.]" She says the key for the New Mexican is not embracing every new idea, "it's implementation and execution" when they try something new.
[NM 0104] - Part 4: Digital Revenues (5:28)
Ginny Sohn, associate publisher, Santa Fe New Mexican, says digital products account for "about 5 percent" of the New Mexican's revenues. "And that's just not what pays the bills," says Sohn. Looking forward, The New Mexican thinks digital revenues are just one revenue stream of many streams it needs to tap, including regional magazines, direct mail and commercial printing. Sohn wants her newspaper to be "flexible and nimble." "Opportunities walk by every day and you just can't let them keep walking," she says.